Clement Mmaduako Nwafor is an award winning contemporary Nigerian Artist and the Creative art director Clemspeter Art Creations Limited who live and work in Abuja. He had long started his art sub consciously as a child when he would spend hours drawing with crayons and coloured pencils. As time went by he took up apprenticeship under Master Philip Nzekwe who has guided and trained his eyes in sculpture, while he has gone ahead to execute numerous commissions in sculpture and thereafter, he also went ahead to learn and develop his skills on painting under a renowned Nigerian Artist Oswald Uruakpa 2011.
Soey Milk is one of the young artists who has already made a name for herself not only in the United States but in the international art world. A graduate of Art Center in Pasadena, CA, Milk has carefully developed her inimitable style over the years becoming known for her portraits of truly alluring and beautiful women. Drawing a lot of inspiration from her South Korean heritage, she creates refined paintings and drawings which have the great balance between the sharp focus of the charming subjects and the vivid chaos of the background.
Lena Sotskova was born in Moscow in 1963. The only child of her parents and a descendent of generations of Russian aristocracy, Sotskova benefited from the immersion of art and culture through artists, musicians, and actors frequently visiting her parents' home. With classical music, the paintings of old masters, and sculptures surrounding her, Sotskova's artistic and creative instincts gained life.
Magdalena Serwin, an artist of the younger generation, a painter specializing in oil and putty technique, a certified graphic designer of applied art, a graduate of the State Higher Vocational School in Racibórz (Poland), who gains experience under the guidance of great artists. Impressionism is undoubtedly influenced by her work, which she emphasizes - as she emphasizes - a hot admirer.
Hofmann was born in Baltimore, Maryland in 1945 and began his training in art after high school at the Maryland Institute of Art. During his first year there he discovered Joseph Sheppard. "I used to walk down to the first floor and stick my head in this room that was totally quiet. You could hear a pin drop. It was Joe Sheppard's class." He began studying with Joe, taking on anatomy, drawing and painting from the model, all of which were new to Hofmann. He also discovered the Maroger method, which enables the artist to use thin layers of paint and techniques similar to those of the Old Masters. Through his burgeoning interest in the Old Masters, Hofmann began to develop his individual taste.
Giuliano Boscaini was born in Turate, Italy, in 1958. Very soon he began working in the field of advertising graphics until 1986, when he decided to become an independent professional in this sector, acquiring leading companies in the national territory in his portfolio. His passion, attitude and fantasy in drawing soon led him to approach art, showing a preference for landscape painting, portrayed with the oil technique. He continued as a self-taught student, studying and experimenting with different techniques.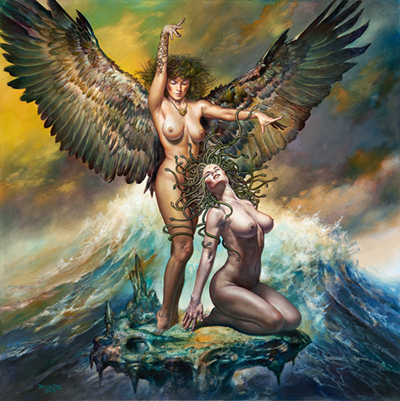 Born in Lima, Peru, Boris attended the National School of Fine Arts in his native country before immigrating to the United States in 1964. He has since done a great volume of work for the Fantasy field, having worked for virtually every major publishing house with a science fiction/fantasy line. Boris has also illustrated for album covers, video box art and motion picture advertising.
Belarmino Miranda was born in 1966, Medellín(Colombia). He is an artist with extensive national and international experience, has exhibited in countries like USA, Canada, Dominican Republic, Salvador, Venezuela, Colombia, Costa Rica and China. ''I just want to capture the greatness of her body and soul, woman is the emblem of perfection, beginning and end....a fountain of life that gives meaning to my existence.''
Vladimir was born in the city of Khabarovsk, on December 19, 1957. When he was two years old, his mother abandoned his father, took her son and moved to Sverdlovsk (formerly, Yekaterinburg). From then on, the family had often relocated from one place to another. The mother wanted Vladimir to become a doctor, but he had a strongly pronounced desire to paint. He was remarkably diligent and observant. While at school, his teachers often asked him to help create visual aids, and he earned his first money for drawing the slogan Long Live the First of May! when he was 13.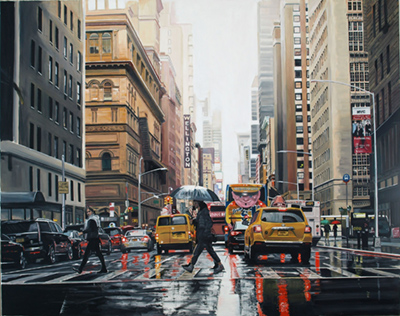 Rainer Augur tries to capture the special moments of life on canvas in order to transmit emotions to the viewer. Objects and people are recorded and reproduced as accurately as possible. Strong colors and the play with light and shadow make scenes appear particularly realistic. In order to draw attention to certain people in his works of art, they are presented in the central perspective and can be grasped and reached by the viewer in the immediate vicinity. As a result, the spark jumps quickly and you feel like you are in the scenery of the pictures.