Anna Dart (Switzerland), is a multifaceted and a largely self-taught artist who promotes ecological, climatic and social sustainability as well as mental health. Anna Dart paints in a style that echoes works of the greats such as Malcolm Liepke, Singer Sargent, Egone Shiele and Francesco Hayez, to create portraits with an erotic potential that are both visually familiar and wholly unique.
Daniel Del Orfano was born and raised on Long Island, New York, and received his BFA in Art Education. Although Daniel found teaching to be extremely rewarding, he decided to divert his attention from teaching art to creating art, and in the summer of 2005, he formed The Renaissance Workshop, which gave him an opportunity to 8292144expand his horizons, creatively.
Michael Flohr attended the Academy of Art College in San Francisco, experimenting with all disciplines and styles. In his final year he was accepted into the prestigious New York Society of Illustrators, joining such luminaries as Norman Rockwell, N.C. Wyeth and Maxfield Parrish. He took his degree in 2000. Three of his student works were selected for exhibition at San Francisco's M.H. de Young Memorial Museum in Golden Gate Park, the city's oldest public art museum. After graduation, Michael Flohr travelled extensively in Europe.
Zhaoming Wu ( 吴兆铭 ) was born in 1955 in Guangzhou (China). In 1979 he graduated from Shanghai College of Light Industry, majoring in decorative arts and modeling. In 1983, he graduated from the Department of Oil Painting at the Academy of Fine Arts in Guangzhou, China. Since 1995, he has been teaching in the Painting Department of the Graduate School of the San Francisco Academy of Fine Arts.
Minjae Lee is an self-taught artist, born in 1989, living in South Korea. His bold, colorful collage-like drawings of faces are unbelievably detailed. All of his hand-illustrated portraits exude beauty and a subdued sense of innocence, blanketed by a looming sense of peril that is hard to ignore. His bold use of color is a direct expression of mood and emotion.
" I started painting long ago, I do not remember exactly when, I remember it always had paintings at home; why? My mother is a painter and my father also an uncle and an aunt of my mother's brothers . Not many people know about them, but living in the middle of the painting made for me almost impossible to choose another profession.'' Renso Castaneda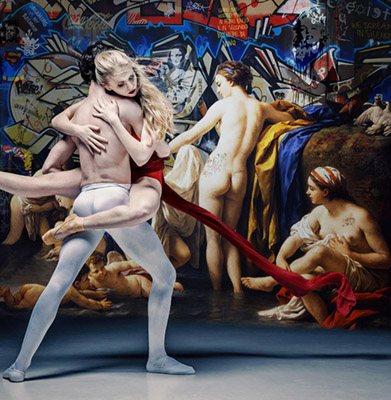 Marco Battaglini was born in Verona, Italy, 1969. He echoes the anxiety inherent in Western society during the 21st century. This artist's work confronts us with an esthetic shock, a style charged with eclecticism and a touch of humor that brings a smile to the spectator's face while begging questions about the dogma that underlies current artistic and social scenes.
Dutchman Richard van Mensvoort was born in 1972 and, as a child, was interested with drawing anything that caught his eye. People, animals, everyday life…He studied Advertising and Presentation to make a career as a visualiser for a number of advertising agencies before he got restless and decided to travel the world. Somewhere between Australia and Malaysia he realised that painting was his calling.
Martín Riwnyj was born in Buenos Aires and has found the world to be a house with open doors for the inspiration and creation of his works. Spending his time between his native Argentina, Italy, Spain, Peru, Colombia, and Russia, he finds himself frequently visiting museums, galleries, art venues, and remote towns to expand his imagination. Although his training was classical, he quickly adopted a unique style that today distinguishes him in the world of contemporary art.
Román de Blas was born in Torelló, Barcelona (Spain). He forged himself in a self-taught way that was driven by his innate capacity for pictorial creation and settled down, opting for a figurative language, based on an excellent and firm drawing of rigorous execution.