Joel Rea is a highly acclaimed and multi award-winning artist known for his surreal, allegorical paintings. Rea's oil on canvas works stand somewhere between genres of hyperrealism, photorealism and virtuosic Renaissance realism. From this amalgamation of influences, Rea has created a unique and recognisable style portraying social awareness and personal introspection through his impeccable execution of brush work detail. Inspired by the mysteries of the animal kingdom and the Universe beyond, Rea's meanings and narratives touch on the vast complexity of the human condition, presenting messages embracing the ageless turmoil of human inner consciousness and our species' unwavering desire to survive.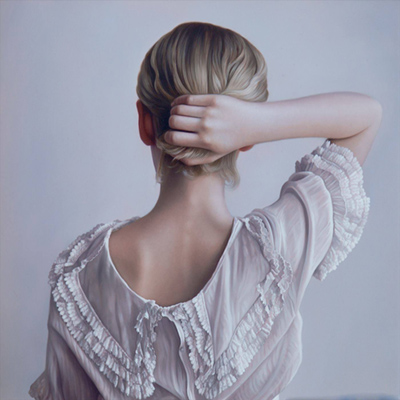 Mary Jane Ansell is a previous finalist in the prestigious BP Portrait Award in 2004, 2009, 2010 and 2012 and has been selected several times for the Royal Society of Portrait Painters Annual Exhibition and The Threadneedle Prize. Based in the UK she shows internationally with recent group and solo exhibitions in London, New York, Singapore and LA. Her works feature in private and public collections world wide including commissions for the permanent collections of National Portrait Gallery UK, Brighton and Hove Museums and the Joe Lewis Collection.
Born in 1967 and raised in Colchester, Vermont, USA, art was always a passion for Donato. Wintery and stormy afternoons were filled drawing, creating art for games, and constructing minature figurative dioramas. Love of imaginative play dominated his childhood, both indoors and out. At the age of twenty Donato enrolled in his first formal art class, beginning his professional training. Technical skills and aesthetics were further developed while attending Syracuse University from 1989-1992. Immediately after graduating Summa Cum Laude with a BFA in Painting, Donato moved to New York City to immerse himself in the inspired and varied art scene found there.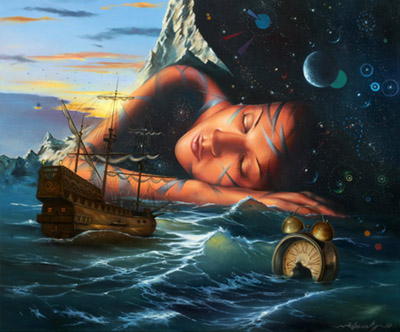 Dariusz Ślusarski was born (1979) and works in Częstochowa(Poland). He graduated from Jacek Malczewski High School of Fine Arts and thereafter he continued his education at Jan Długosz University. The artist has been painting for more than 20 years and in the art market he has been known as a representative of surrealism – magical realism. Through his works Dariusz takes us to his magical world, to which he has devoted his whole life. Although the track he has chosen is windy and twisty, he has been perfecting his painting skills and techniques all the way through it, learning from the best masters in this field.
Nathalie Armand was born in Bagnols-sur-Cèze in France on June 15, 1965. She is a painter of emotions, which she translates through portraits with looks of astonishing intensity and sublimated bodies. In fact, her love for the sacred feminine leads her to express the full range of her creativity. The tones are sometimes soft, sometimes lively. Like a choir director, the artist makes the colors sing in subtle harmonies and vibrations.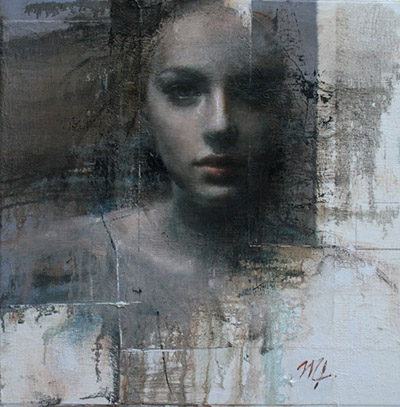 Mara Light, was born in New York in 1970, and raised in Southern California from the age of three. She comes from a family of visual artists. "Painting seemed very natural to me since my early years growing up," says Mara. She considers herself extremely fortunate to have been given the opportunity to be around parents who look at the world in an artistic, visual way. She was encouraged, and at times pushed, to make her very personal artistic expression part of her life. She recalls a point after graduating high school when her mother encouraged her to go ahead with college at the local art school, and they would make it work.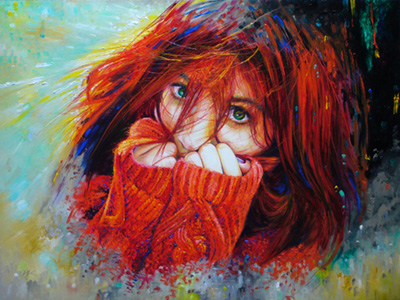 Włodzimierz Kukliński – artist, painter and book illustrator. His works resemble rebuses, they always consist of several layers of visual and meaning that interpenetrate. Their content is much deeper. The meaning is constituted between the elements of different realities. This fact is not the only feature linking Włodek's work with surrealists. The influence of psychoanalysis is much more important here. He works primarily with oils and his paintings often depict young women in thoughtful contemplation. Wlodzimierz loves illustrating fairy tales, historical books, and detective stories. " Painting is most important to me – it's a cliche, but it is. I cannot imagine that something could fascinate me so much in life. It is the axis around which everything in my world revolves.
Painting and drawing since childhood, Susan decided after an extensive trip to Europe and its national galleries to take her work to a professional level. Her exhibitions are much awaited events and are highly successful. Queues for the exhibitions start to form several hours before opening time and continue throughout the duration of the show. Susan's work has been on several prestigious magazine covers and within the pages of many publications.
Chinese artist Yuanxing Liang (袁星亮 ) is redefining the traditional bust sculpture with his breathtaking fantasy art. Yuanxing Liang's sculptures combine exquisite female portraits with prosperous landscape elements. The hair part of the sculptures has more designs. Yuanxing Liang gives these sculptures hair more functions, turning them into table lamps or fish tanks. He was a game art concept designer at NetEase Games, and was responsible for the production of 3D characters in the game.
Janto Garrucho is a self-taught artist from Spain. He was taking painting classes from an early age, stubborn self-taught and studious of the great masters of classical and contemporary hyperrealism. " I am an artist obsessed with detail and light, with emotions expressed through the human body and with color. In most of my works the central axis is the human figure and nature, because as in a body, nature also inhabits the force of diversity and shows us the connection with other states of consciousness.'' - Janto Garrucho