Matt Abraxas studied from the world-renown Ted Seth Jacobs in the Anjou region of France, and then from Jeffrey Watts at the Watts Atelier in California. These two approaches of education continue to influence Matt's painting and his appreciation for an academic study of art.
Bev Jozwiak has earned her signature status in the American Watercolor Society, the National Watercolor Society, Watercolor West, and others, too numerous to mention. She is an International Award winning Artist. Born in Vancouver, Washington, Bev still resides there with her husband of 30 plus years. She has two daughters, and three grandchildren. She has been included in countless "Best of Art Books", including numerous times in the well know series by North Light, "Splash".
Roy Tabora has been painting professionally for over 36 years, in Hawaii, his island home he considers paradise. Generations of collectors have enjoyed his works worldwide, captivated by his ability to hold ethereal light in his oil paintings. Typically artists paint what they see.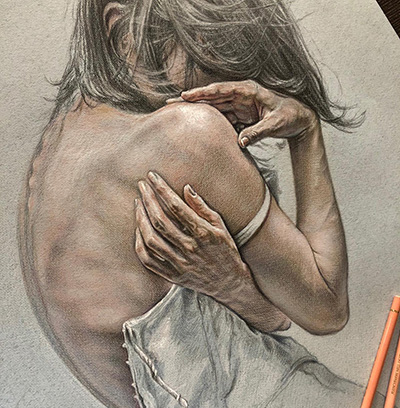 Lilia Vovk is an artist and art teacher from Ukraine, Kharkov. She teaches academic drawing in Kharkov. Her artistic style could be described as intersection of photorealism and academic drawing.
Petterson Silva was born in Mato Grosso, Brazil. A young virtuoso, who went to Centro Universitário Belas Artes de São Paulo, Silva started to show an early talent since he was five years old when in preschool he discovered guache paint.
Loui Jover (born April 1967) is an Australian painter and artist. He was born in Serbia but moved to Australia aged 1 where he grew up. He is known for his artwork in ink wash paintings on vintage book pages.
Rodrigo Luff is an Australian artist based in Los Angeles. He creates ethereal figurative works of women in beautiful dreamlike settings and explores a feeling of the otherworldly in his paintings and drawings.
SoFreeSo is a Swiss graphic designer and artist whose work focuses on depicting sensitivity through poetic and expressive faces. The mixture of portraits, butterflies and other elements of nature takes on a metamorphic aspect, halfway between the human, the animal and the color.
Marie-Laure Souq was born in 1972 in France, Paris region, in Val-de-Marne, Marie-Laure Souq left Ile-de-France for Auvergne where she grew up. It was with her father, painter in his spare time and who was inspired by the Parisian "Poulbots" painted by Michel Thomas, that she was introduced to drawing, then to painting: the smell of oils would never leave her.
Pedro Albuquerque was born in Oporto, Portugal in 1978. He attended the fine arts school at Oporto University. He has exhibited in group and individualy several times in Portugal (Oporto, Lisbon, Vila do conde) and abroad ( Madrid , Rotterdam, New York , Vegas, Moscow , Salamanca)