Konstantin Razumov was born in 1974, in the city of Zarinsk, Russia. He creates his paintings by combining the styles of realism and impressionism: he paints the details of the "portrait" realistically, but the background of the paintings is characteristic of impressionism. Konstantin Razumov creates paintings in different genres, from Nude to landscapes.
Aydemir Saidov was born march 29, 1979 in a family member of the Artists Union of Russia, Honored Art Worker of Kuban, Seyfulla Aydemirovich Saidov. In 2000 he graduated from Krasnodar Art College, and in 2006 St. Petersburg State Academic Institute of Painting, Sculpture and Architecture named after I.E. Repin - Academy of Fine Arts. Painting workshop O.A.Eremeev, qualification of a painter.
Katia Honour charts the co-creative relationships between ethereal and physical.Katia had always been a mystic, but could barely draw a stick figure! After a traumatic accident left Katia her with incurable disabilities, she travelled the world in search of an alternative. By chance, Western doctors prescribed rehabilitation by art therapy and Katia underwent psychedelic psychiatry on the side … and a visionary artist was born.
Zeng Hao was born in Zigong (China), 1970. He is currently the vice president of the Chinese Buddhist Artists Association. His works have been exhibited in Singapore, Hong Kong and other places. Since childhood, Zeng Hao has been guided by his father on the road of painting. In the creation of Dunhuang series of works, based on tradition and bold innovation, in order to reproduce the cultural heritage of Dunhuang and the exploration and innovation of ancient art, he combined western oil painting techniques with traditional Chinese culture, combining modern aesthetics and his own art.
Galya Vasileva Bukova was born on 19th July 1978 in Sofia, Bulgaria. She graduated from the School of Applied Arts and Painting in Sofia. Her main activities are paintings, wall decor, silk art and other handicraft projects. She currently lives and works in Sofia.
The Austrian painter Albert Rieger (Vienna-Trieste 1802-1883) is difficult to grasp in the sources. He was born in Trieste, he spent his life in Vienna. He left behind an extensive oeuvre with picturesque European landscapes including alpine subjects, North Sea motifs and depictions of Italian coastlines.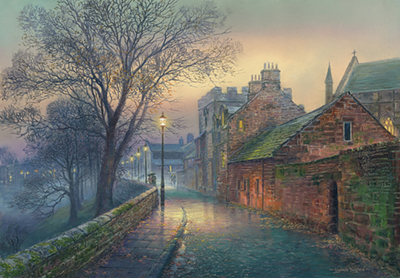 Graham Twyford has always taken pleasure in drawing and painting. From an early age he tried to visualise and illustrate ideas from his favourite books and mythologies, then increasingly became aware of and inspired by the renowned Lakeland landscape so close to home.
Herman Smorenburg was born in Alkmaar (1958). After his art study in Amsterdam, he studied the classical technique of glazing over a monochrome underground painting. This resulted in a manner of working which is characterised by great subtlety of colour effect and delicate degrees of light and shadow. His themes are determined by mythical and visionary landscapes, sometimes with architectural elements which point to a bygone era.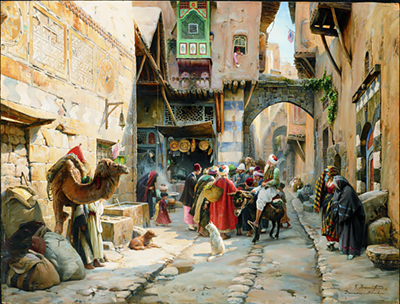 Gustav Bauernfeind (4 September 1848, Sulz am Neckar - 24 December 1904, Jerusalem) was a German painter, illustrator and architect of partly Jewish origin. He is considered to be one of the most notable Orientalist painters of Germany. After completing his architectural studies at the Polytechnic Institute in Stuttgart, he worked in the architectural firm of Professor Wilhelm Bäumer and later in that of Adolph Gnauth, where he also learned painting.