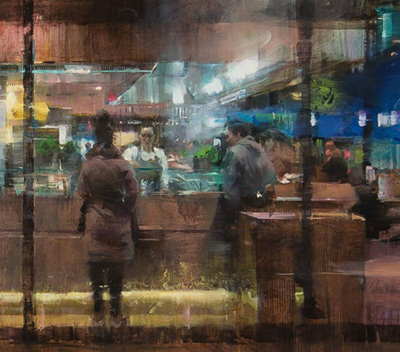 Simon Pasini was born in Genoa in 1976. When Pasini was 4 years old he moved to South-Africa with his family, where he created a passion for art and painting. He is one of those contemporary artists who gladly stand on the shoulders of the Old Masters in order to get a better view of the boundless potential of painting.
Over the last twenty-five years, Mia has crafted an award winning, diverse career in art that is inspired by a life of adventure, beauty and faith. Her paintings and glass mosaics can be found in public, private, institutional and corporate collections worldwide from Marriott Resorts and Harrah's Casinos to the United States Air Force. Mia has been known to paint with glass. Her intricate stained glass mosaics weave her experience as a painter with her love of high renaissance glass mosaics. She has created numerous mosaics for churches, restaurants, residences, corporations and public works projects throughout the US over the last sixteen years.
Claudio Sacchi was born in Pesaro, Italy, on 19 December 1953. He attended the Art School in Urbino, and continued his studies at the Academy of Fine Arts in Florence. Major influences in his artistic education were his encounters with Pietro Annigoni in 1973 and with Enrico Del Bono in 1977, and his friendship with both artists.Since 1977 his work has been included in the archive of the Kunsthistorisches Institut in Florenz, in the section on twentieth-century Italian art. In 1979 he collaborated with a Research Centre working on Mario Donizetti's artistic techniques, in Bergamo.
Patricia Watwood is an American figurative painter. Watwood's paintings explore transformative narratives and mythological archetypes using the human figure. Her oil paintings show traditional methods and a technical rigor that balance perception and conceptual design. Her most common subject matter is the nude, particularly women, in images that convey the sacred feminine. Watwood has exhibited at galleries and institutions worldwide such as Hirschl & Adler and The Forbes Galleries in NYC, The New Britain Museum of American Art, The Butler Museum, and the Bruce Museum.
Ángel de Cáceres García was born in Córdoba and is resident in Sanlúcar la Mayor (Seville). Bachelor of Fine Arts from the University of Seville, specialising in Painting, a year after he succeeded in obtaining the post of Professor of Drawing and Plastic arts through public examinations, and performed this position during the next nine years, combined with study of new techniques of painting and sculpture.
Igor V. Volosnikov, better known by its abbreviated name Igor Volos was born 1964 in the Ural mountains at Kirov (Russia). He graduated there from the Schools of Art and of Higher Art before teaching as senior artist at the RKhMC Prior to that he studied monumental art in MGPU (named after Stroganov) as well as Restoration of monumental painting, after which he helped restore a temple in Sao Paulo (Brazil) built bythe Bibikovs, a family of royal nobility.
Born in southern Island of Taiwan" Taiwan in 1955. His birth name is 胡文賢, which phonetically translates as Wen Shyan Hun. So that people, in his time as a student in Spain, could easily memorize his name, he began to use the nickname Santos Hu, which to this day used as a artistic [pseudonym]]. In 2007 he was granted Spanish nationality (maintaining Taiwan's Spain Taiwan, and since then has officially changed his name into Santos Hun Wang. He was drawn to the art of painting from an early age.
Leclercq is a talented French painter who has exhibited and received prizes for his work in France and the US. An artist formerly dedicated to drawing, Leclerq now considers himself a most traditional painter. Working within New Realism Art, his pieces immerse us into rich environments and showcase the sublime feminine.
Jolanda Richter was born in 1971 in Almelo, Netherlands. Aged three the family moved to Hamburg, at age six to Vienna. She quickly took up art and music. She was admitted into the 'University of Music and Performing Arts Vienna', where she studied the cello for five years.
TRAN NGUYEN is an award-winning illustrator & fine artist. Born in Can Tho, Vietnam, she currently resides in the peachy state of Georgia (USA). Nguyen's paintings are created with a soft, delicate quality using colored pencil and acrylic on paper. She's most known for her paintings of whimsical women and their melancholic landscapes, which often possess an air of fantasy and surrealism.