Cao Yong (Chinese: 曹勇; born June 9, 1962 in Xinxian, Henan, China) is a Chinese artist whose work depicts Tibet. He attended Henan University and graduated with a BA in Fine Arts. Following his graduation, he took a position as Assistant Professor of Art at Tibet University. Yong began painting when he was 11 years old. Due to his family background, he was considered politically questionable by the Chinese authorities.
Amit Bhar is a Bangalore-based artist whose interest in art began at a young age. In his own words, it was eventually to become "the primary objective of his life". The pristine, rustic beauty of rural Bengal—of his birthplace, Hooghly-Chinsurah—the clear blue skies, fallen autumn leaves, grazing cattle and the daily life of the village nestled on the banks of the river Hooghly, inspired Bhar to start painting when he was as young as twelve.
Vicente Romero Redondo (Vicente Romero, born in Madrid, 1956) is a Spanish figurative painter and educator, best known for his pastel depictions of graceful girls at solitary moments in romantic surroundings, adorned in crafty clothing. Having resided on the Costa Brava for years, his oeuvre has been praised for conveying rare beauty and serenity, while taking after the vivid luminosity distinctively seen in the art of native mediterranean masters.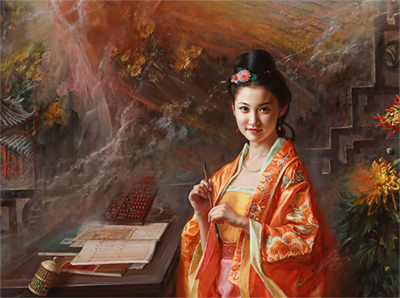 Chinese artist Jing An uses female portraits as her main creative subject and exploration direction, and her practical techniques are exquisite, her style is beautiful, she is especially experienced in oil realism. She reflects the rich Chinese aesthetic temperament, gradually forming her own artistic characteristics. Liao Zhai Zhi series presents a dignified, fresh and quiet atmosphere as a whole, often adopting a unique perspective to put women into specific life situations to highlight the character and temperament; she is also good at using symbolic elements to highlight the paintings.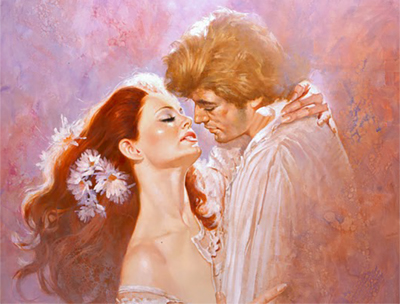 Enric Torres-Prat was born in Barcelona in 1940. He studied at the Academy of Sant Jordi and in his youth he toured various European countries and the United States, studying in his path the painting of the various museums he found. Of these the one that most influenced him was the Rijkmuseum in Amsterdam, especially Rembrandt.
Wang Ming Yue, born in 1962 in Beijing. He graduated at the Chinese Central Academy of Fine Arts in 1991. He is a professional oil painter. "Beijing Trends", an exhibition held by the China Arts Gallery in 1995, featured three of his paintings, "March", "Red Coral" and "Tibetan Child".
Lily Moses is a self taught artist who began manifesting her visions through art at a very early age. Her art became a sanctuary where she could retreat and express her innermost feelings.
Dario Ortiz is a self-taught artist, born in Ibagué, Colombia. He graduated from the Colegio San Tarsicio in Bogotá in 1986. He studied History and Art Appreciation in the Jorge Tadeo Lozano University in 1990-91. Since 1995, he has been a contributor to the Ibaque newspaper, El Nuevo Día.