'' As many have done in mythology, I relate the beauty and energy of water to feminine power. Water has long been equated with the feminine aspects of creation, nature and spirituality. I see the ocean as life giving, fertile, powerful, sensual, changing and mysterious. In my art, my brush strokes mimic expressions of water.My paints create currents, splashes and fluidity. I am inspired by water's glimmering interaction with light. '' - Lindsay Rapp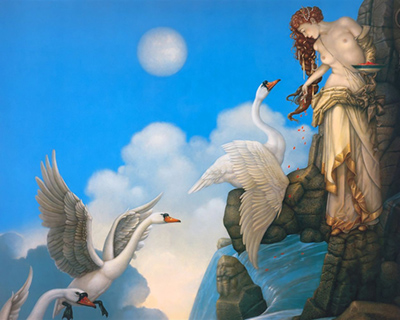 Michael Parkes is the world's leading magical realist painter, sculptor, and stone lithographer. His decades of success as a fine artist stand out in the art world where few artists ever achieve success in both the primary and secondary markets. Michael Parkes' works are collected by celebrities, prominent private collectors, and galleries around the world, and his body of work stands for all ages.
In 2012, based on her self-taught pastel portraiture, the Scottsdale Artists' School awarded Tina the first of two merit scholarships and she began working in oil immediately falling in love. And that is precisely what happens to Tina with every face she paints. In addition to recognitions by the Portrait Society of America, Oil Painters of America and National Oil and Acrylic Painters' Society, Tina is a two-time ARC Salon Award winner including 2016 and 2015 ARC Salon Purchase Awards for her works, "City Blues" and "String of Pearls". Both paintings are now part of the Art Renewal Center's permanent collection, exhibiting at the Museum of Modern Art Europe, (MEAM) in Barcelona, Spain and the Salmagundi Club in New York City.
Łukasz Jaruga, born March 16, 1984 in Tczew (Poland). He studied at the Academy of Fine Arts in Gdańsk. Artistic experience he gained in painting workshops from prof. Teresa Miszkin, prof. Andrzej Dyakowskiego, prof. Zbigniew Gorlak, prof. Adam Haras and others.
Michael Waizman was born in 1966 in a northern Israel town of Migdal Ha'Emek, situated in Galilee. From an early age Michael directed his energy and creative talent towards experimenting with various art forms. Schools hours were spent on sketching, drawing and simple doodling rather than listening to his teachers.
Nicole Roumelioti, a young artist from Greece, showcases life on canvas through the purity and beauty of the male and female body. Her style is Realism, mostly in black and white with a domain red element that signifies each painting.
Kat Fedora is an artist from the Northeast United States. She is a "painting sorceress and nature child from the North," as she herself said. She is a forest girl at heart and a believer in magic and adventure. Her paintings tell stories about the place where the mysteries of the universe meet gently with nature and humankind.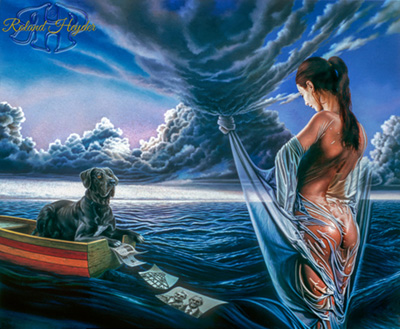 "It is hard for me to discuss my work because I don't like the idea of influencing someone by explaining my own thoughts and opinions concerning my art. Each painting can either put you in another world, in the middle of a story or simply be the expression in symbols of my inner feelings. In terms of technique, I generally work on canvas prepared with at least two coats of gesso. I do a pencil sketch on paper, then on the canvas before painting with acrylic and then in oil." – Roland Heyder
Gianni Strino was born in Naples in 1953. From an early age he immediately demonstrated his great passion for drawing and painting, inherited from his great-grandfather sculptor, and received his first award by winning a national school drawing competition at the age of seven and subsequently a scholarship from the "Banco" Institute of Naples".
Ricardo Sanz is a San Sebastián painter. His work is contemporary figurative style. His artistic vocation was forged through his grandfather, owner of the Art Gallery La Perfecta in which he met the great artists of the painting: Sorolla, Zuloaga, Vázquez Diaz, etc.