Esther Barend was born in an artistic family in the Netherlands. After finishing her studies, she established herself as a designer of jewellery in Eindhoven (The Netherlands). Several years later she started classes at the Academy of Fine Arts. After 3 years she felt she had to go her own way. With experimenting day in, day out she developed her own distinctive style through the years. Barend wants to stimulate the spectator to use his/her own imagination. She wants to take the viewer along into a fascinating spectacle, which has been built by intense colours, contrasts and powerful movements ... into another world that only exists in your own mind.
My name is Natalja Picugina. I am a native Russian . I was born in Latvia, A beautiful resort city on the Baltic Sea. Art is my passion. I took art lessons from various artists in Latvia, Russia and Eastern Europe. I have University degree in History. I taught basic art classes to children in elementary school.. I also worked with various artists to organize and teach basic to advanced art classes for adults. . I believe art needs to show feelings, expression and technique. My paintings come from my soul. I feel my art reflects a mood of the moment captured in time, something that will never be back.
Pascale Taurua is a painter born in 1961, in the French Polynesia. Pascale's father was a carpenter, so she had access from an early age to different materials, which influenced her to start making her first creations. But it was her grandmother and her passion for fabrics, which taught Pascale everything about colors. ''I attribute my work with my figure painting to make art that is both personal and universal. I paints a world I know well : fashion.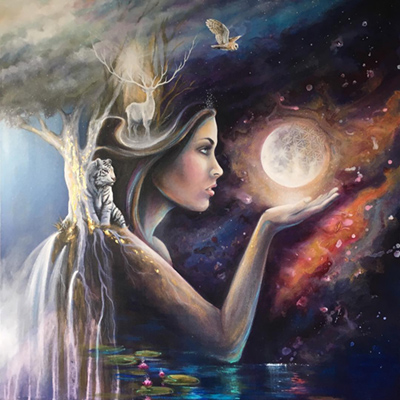 Linzy Arnott is an international, published, award winning, self taught artist who has been represented in galleries since she was 16 and has been a full time artist since 2011, creating and selling over two thousand paintings. Linzy discovered early in life that the power of art held a depth and level of self expression that far outweighed what she could express through words. A life defining moment in an art museum in DC at 19years old, Linzy became keenly aware that the intention and energy poured into a painting was even more powerful than what a painting looked like, and that this intention could literally touch and heal hearts as it did for her that day.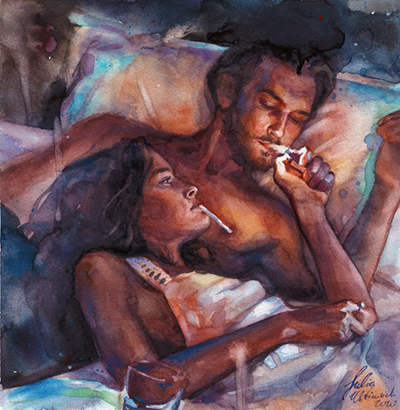 She was born in the center of Siberia, in the city of Krasnoyarsk in 1984. From early childhood, she wanted to be an artist, so as soon as she was 8 years old, her parents sent her to a children's art school. She graduated after 5 years with honors. But, unfortunately, she did not succeed in entering the Institute of Arts due to the difficult financial situation of my family. She did not have the courage and patience to continue trying. With her words ''I was impressed by how many lessons were on the Internet, how knowledge was easily accessible. What failed at the art school was obtained in a matter of days. Body structure, color, work with materials - everything is simple and accessible told by people who are happy to share knowledge. And my gift was a success. Heart began to sing. The dream woke up and does not let go.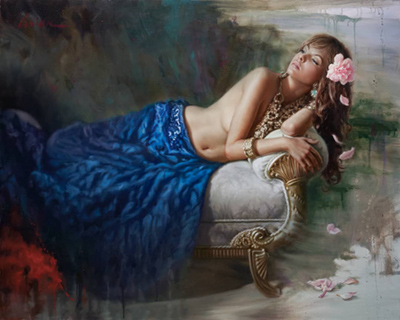 The exceptional work of American realist painter Mark Arian is the product of natural artistic talent, heartfelt passion, and more than fifty years of study and observation. He was born in Des Moines, Iowa in 1947 and received formal training in painting and sculpture at the Frudakis Academy of the Fine Arts in Philadelphia, Pennsylvania, the Barnstone Studios in Allentown, Pennsylvania, a private art academy in Florence, Italy, and the La Jolla Atheneum, and Watts Atelier in San Diego, California. After his teenage years in America's Midwest, Arian entered a monastery in California in search of spiritual enlightenment, where he devoted the next 18 years of his life to the service of the order as a monk. There, his early morning meditations were followed by ten to twelve hours of creating drawings, paintings, and murals for the monastery.
Born some 28 years ago with a great passion, rather than talent for art. But becoming acquainted from the age of 10 with the work of artists such as Boris Vallejo and Luis Royo got me obsessed with figurative art. I've spent lots of time copying their work to study how they achieved such a mastery rather than being a good student at class. Which left me being no good at math or any of the sciences. While other kids were participating in class I was secretly drawing in my notepad, while they were doing their homework I was painting. So it became obvious to me I had no academic strength and the only path I can travel is in the pursuit of bettering the only skill I've developed this far even though it made no economic sense at the time.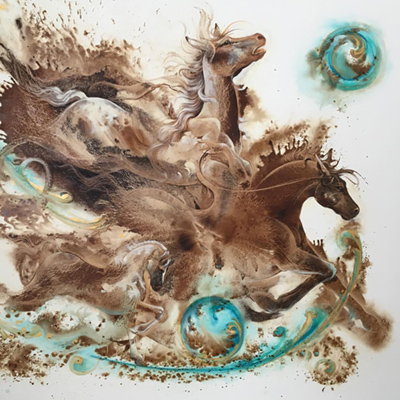 Adak Jamshidzadeh, an Iranian Artist, has a talent for making art out of anything…spilled coffee, juice…even make-up. Painter Adak Jamshidzadeh explained that his work was unique because, "There are other artists who use coffee but they use either coffee grounds or watercolor paint. After I draw with coffee, I varnish the painting and the coffee doesn't spill at all. These paintings have a surreal style. I don't imagine a painting in my mind, sometimes even other people are spilling the coffee. A third eye is needed to make these paintings," the Iranian artist said.
Jung hun-sung was born in 1971 in Yeosu, Korea. Unfortunately, this is all the information I have about this artist. But you can visit his YouTube page as well Facebook page. You can find a lot of videos on his youtube showing how he creates his paintings.
Johnny Morant (b.1982) is a visual artist exploring themes of sustainability and social awareness. Morant attended art school in Bristol and Bournemouth and has lived in London and Amsterdam. Working in oil on canvas I aim to readdress familiar subject matter by applying a process that demands fresh interpretation. I set constraints that give me the freedom to create information that my source material lacks. In doing so I aim to give a fresh cause for consideration through permanence, scale and decision making.