'' I am a Fine Oil Painter and Graphic Designer born and raised in Southern California. I have practiced my craft ever since I could pick up a pencil. I studied under the Master artist Michael Ward. From there, I went on to attend California State University Northridge where I majored in the Fine Arts. Transferring from CSUN to Art Institute of California Los Angeles, I graduated with a B.S. degree in Graphic Design. '' - Erica Robin
Alim Adilov painter was born in 1963 in Tashkent, Uzbekistan. He studied at the famous "Repin" Art Academy in St. Petersburg. Here, he had among his teachers the internationally acclaimed masters Vitrugatszkij and Mojszenkó. Between 1991-93 he deepened his skills and knowledge at the London Academy. Alim Adilov lives with his wife and children in Hungary since '93. After settling in the country he became quickly popular both in the profession and among the art-loving public.
Konstantin Kacev, born in the former USSR, is a painter who is currently living and working in Skopje in the Republic of Macedonia. He paints realistic figurative scenes that contemporary life with a surreal twist. For many years he had worked at the Republic's Department of Culture and Conservation specializing in protection of monuments as a freelance wall painting conservator. Since 1999 he has moved in his studio and participates in many exhibitions across Macedonia and several independent exhibitions in Paris and New York in 2005.
Born in 1942 and educated in the fine arts at the prestigious Art Students League in New York City, John Pitre evolved to become a master of fantasy and surrealism. Pitre has been a significant influence in the art world for over thirty years, and carries the distinction of being one of the most widely published artists in modern history. As a storyteller, Pitre uses his paintbrush to comment on the most profound questions concerning man, and to create a reflection of our times and the world in which we live. He creates entire imaginary worlds completely from his mind, using artistic expression as a vehicle for powerful social commentary.
Brian O'Neill's work has been showcased in galleries across The U.S, Canada, Japan and England. O'Neill is a graduate of The Ani Art Academy apprenticeship program where he studied under the guidance of acclaimed realism painter Anthony Waichulis. Brian has found success in oil realism with still life and figurative work as well as bold, loose abstract painting. His dynamic and expressive Contemporary Landscape work explores the natural world around us through the use of horizon, air, fire, water, texture and luminous metal gold and silver leaf.
Wang Neng Jun is a professional painter from China, he graduated from Chongqing Arts and Crafts School in 2001, he is living now in Beijing. He is using modern people and ancient costumes to express the painter's reverence for nature and modern understanding of tradition through dramatic ideas.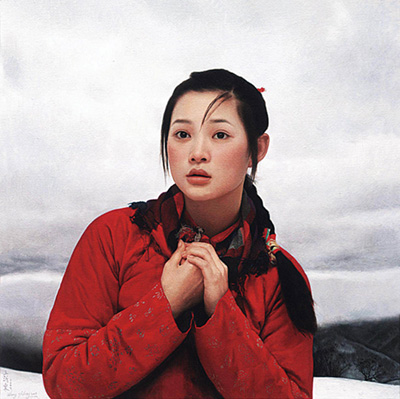 Wang Yidong was born in Penglai County, Shandong Province (China) on May 11, 1955, in a rural village in southern Shandong (China) with simple folk customs and picturesque mountains and rivers. The landscape of his hometown gave him an artistic temperament with a strong rustic flavor and profound spiritual connotation. His works affectionately reflect the hot land he deeply loves.
Born in Valencia (Spain), in 1980, Gustavo Silva Nuñez has participated in around 40 solo and group exhibitions in his home country and abroad. He paints men and women in soothing and dreamy pools, tubs, and seas. Silva transmits well-being, inner peace and creates an optical illusion where you want to submerge and swim with the protagonists of the works, many of them bathers.
Elena Markova was born in Russia, where she graduated from the academy of music, specializing in piano. ''In adulthood, I had lived in New York for over 10 years and studied at the Fashion Institute of Technology, majoring in video editing and animation. I was also involved in photography and painting. I have been living in Amsterdam since 2013, and I am exclusively engaged in painting. My paintings are found in private collections in New York, Holland and Russia, and are also given to charitable organizations.'' - Elena Markova
Australian artist, Catherine Abel is renowned internationally for her striking figurative oil paintings. Combining the sleek, stylised geometry of the Art Deco period with the clarity, richness of colour, and depth of light of the Italian Renaissance Masters, her works are powerfully seductive compositions of beauty, elegance, strength and grace.Self-taught, Abel began painting professionally after moving to Paris in 2000. Influenced greatly by European art and history, she immersed herself in her painting, rapidly building her reputation as a fine art painter. She has exhibited in Australia, France and the USA and is a sought-after portraitist.