Paintings by Wieslaw Wilk and and his daughter Emilia Wilk. Wieslaw Wilk was born in 1954 in the Pomerania region. He has spent all of his life near the water - sometimes the lake, sometimes the sea.Since the childhood he was interested in sailing. When he was 11 he won in regatta for the first time.He served in the army in the blue beret of the Polish marines.He worked many years in the shipyard in Gdansk, he was also employed as the boat constructer at a yacht builiding company.He has been painting since a long time. The main theme of his paintings are the sailing boats at sea.
Anna Steshenko is a professional artist and designer from Ukraine. She started painting at the age of 4, it was her favorite hobby since childhood. Therefore, in the future she chose the profession of a designer. In 2007 Anna graduated from Kiev National University of Culture and Arts with a degree in environmental design. In 2008, she graduated from, the Institute of Advertising and was qualified as a Master of Design. For many years she worked in the field of industrial design. Anna was engaged in the creation of design fabrics for clothing and bed linen.
Rafael Merinoo is a Mexican artist considered one of the most accurate artists in the definition of the human body. Art Connoisseurs has pointed to Merinoo as a complete artist and dedicated to his passion, and thanks to his mastery of color, his acrylic paintings on high quality canvas have led him to a consecutive presentation with more than 100 collective exhibitions and individual, in national and international museums and galleries. He has 48 years of artistic career and has become one of the most prestigious painters in Mexico.
Jim Warren began painting and selling his art in high school over 40 years ago. Now considered a "Living Legend of the Art World", Jim continues to create his unique style of art seen the world over. His talents won him a first place award at his first art show in 1975. Soon after Jim began painting illustrations for books, movies and record album covers, most notably the Grammy Award winning cover for Bob Seger's "Against the Wind" in 1981. Later Jim Created artwork for Alice Cooper, Prince, Authors Clive Barker, Robin Cook and many others.
Steve Hanks (1949-2015) is recognized as one of the best watercolor artists working today. The detail, color and realism of Steve Hanks' paintings are unheard of in this difficult medium. A softly worn patterned quilt, the play of light on the thin veil of surf on sand, or the delicate expression of a child — Steve Hanks captures these patterns of life better than anyone. Steve Hanks was born into a military family in San Diego in 1949. His father was a highly decorated WWII Navy flyer. Steve Hanks grew up playing tennis and surfing along the beaches of Southern California.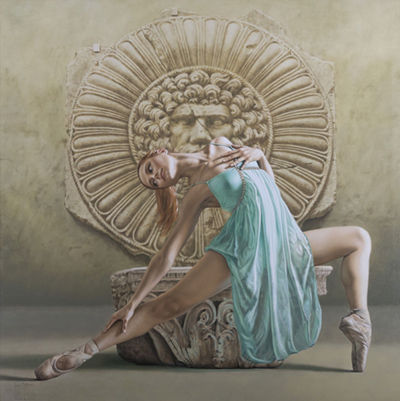 Sergio Martínez Cifuentes, hyperrealist painter, was born in 1966 in Santiago de Chile. In 1987 he married Lizeth, with whom he made the first portraits and nudes, meeting the human figure, as a new challenge. This communicates closely with the "nude" that since the 90s will be the subject that covers almost all of his canvases. Between 1992 and 2003 he directed his private painting workshop, in the city of Concepción - Chile, where he taught classes to a large number of people with whom he carried out important exhibitions in the city.
Ramiro Ramirez Cardona is a Colombian painter who was born in 1954 in the village of Chinchina in Caldas. It was almost cosmically decided that he would become an artist as he grew up in a family full of self-taught painters and sculptors. Ramiro Ramirez Cardona is not just any painter, it is above all a man who puts his soul and his life into his work, pieces of his energy are indivisible in the pores of his artworks, his breathing results in the details that he works out in careful scenarios which are both autobiographical and based on pure observation of his surroundings and especially his poetic fantasy.
Atsushi Suwa is a Japanese Asian Modern & Contemporary painter who was born in 1967.He studied oil painting in the Graduate School of Art and Design, Musashino Art University. In 1994, on recommendation of the Department of Culture of Japan, he went to Spain for further art study as a trainee. In 1995, he received the First Class Award at the 5th Concurso International de Pintura organised by the Fundacion Barcelo, Spain. He was the first Asian artist who received this award. He also won an award for Excellence at the 22nd Selected Promotional Exhibition at the Sompo Japan Museum of Art.
Contemporary Ukrainian artist Victoria Lapteva (1972) lives and works in Kiev. She graduated from the Kiev State Institute of Decorative and Applied Arts and Design. M. Boychuk (KHPT 1988). Creating a series of paintings, she often refers to various styles and trends in painting, including realism, impressionism and abstractionism. In her early work, she created paintings in the technique of batik and designer textiles. Now she prefer urban landscapes in the style of impressionism, abstract compositions in landscapes and still lifes, portraits on order in a realistic manner of execution.