Romulo Royo was born in Zaragoza (Spain). His work is exhibited since 2000 and is present in several private collections, foundations and museums. His work is published internationally in covers of novels and comic books for publishers, Eura (Italy), Rad Moskbay (Russia), Bastei (Germany).The works by Romulo Royo has been exhibited in prestigious galleries, art centers and museums.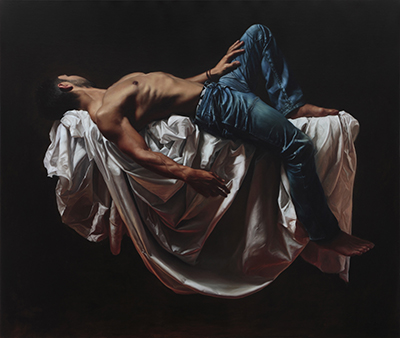 Claire Bridge is an Australian artist, of Anglo-Indian and culturally Deaf (Auslan) heritage who works across ceramic sculpture, textiles, painting, video, sound/vocals, performance, and collaboration to explore body, gesture, voice and power, gendered violence, intergenerational legacies, and the labours of personal and cultural repair.
Megan Elizabeth Read (b. 1982) is an American figurative artist living and working in Charlottesville, Virginia. Largely self-taught, she now works almost exclusively in oil with pieces ranging from small still life to large scale paintings mostly focusing on the female form.
" I am graduate of Department of Art, at The University of Nicolaus Copernicus in Torun. I create and paint since I can remember. Parents very early recognized the growing passion and took me to one of the local art teachers, who insisted that I should develop my talent. As a child I went through all kinds of art such as wooden sculpture, clay, ceramics, all sorts of collages, drawing, pastels, watercolors and finally my beloved oil painting." – Daniel Pawlowski
Arantza Sestayo (San Sebastián, Guipúzcoa, Spain) Spanish painter and illustrator. Her career path ranges from realistic illustration (Heavy Metal, Rebel Ink or SQP, USA) to children's illustration (Psago Prinsessan Sweden) or comic strips (Rooie Oortjes Belgium). In Spain, she has published Wicked Kisses with Norma Editorial and participated in Midnight (Dibbuks), Duende (Castellón municipality) or Vampires and Reinas de la Ilustración Española (Norma Cómics).
Matt Talbert is a contemporary oil painter living in Southern California. While he grew up at the beach, Matt attributes much of his artistic development to his years spent in New York City. Working in the basement of the famous Pearl art store on Canal Street and meeting a wide range of artists from all disciplines was indispensable. He is both a graduate from the Orange County School of the Arts and the Laguna College of Art and Design and has had the honor of being named one of the "Top 100 Figurative Artist Working Now" by PoetsArtists Magazine.
Casey Baugh's work can be described as narrative impressionistic realism. Specializing in oil paint and charcoal, he began painting at the age of 13 and began selling professionally at age 17. When he was only 21 years old, Baugh began showing in galleries and after four years of studying with artist Richard Schmid, he had his first solo show at age 25. He has made several television appearances and has been featured on the covers of many publications, including The Artist's Magazine, American Artist's Magazine, and American Art Collector.
Ricardo Celma, born in Buenos Aires in 1975, showed his artistic talent as early as 1981 when he was 5 years old. He graduated from the Escuela Nacional de Bellas Artes Prilidiano Pueyrredón, where he studied from 1994-1998. His title obtained from these studies is Profesor Nacional de Pintura.
Xie Chuyu ( 谢楚余 ) is an associate professor in the Oil Painting Department of Guangzhou Academy of Fine Arts. Painter of Guangdong Academy of Fine Arts. Since 1989, five solo exhibitions have been held in Guangzhou, Taiwan and Singapore.