Born in Yorkshire, England in 1927; died in 2008.Dinsdale painted the sea and great ships of the era when "Britannia ruled the waves" with her fleets of clipper and fighting ships whose huge white sails took men across the seas of the world. Dinsdale loved both the sea and the ships and professed he really only felt at home on the blustery east coast of England near the sea that he loved and painted so well.
Dave Pollot is a New York based artist who is known for his altered thrift art paintings. He finds unwanted artwork and adds his own touch – most often pop culture parodies – and in doing so, bridges the divide between classic and pop art. His artwork has been displayed and found homes in galleries, businesses, and private collections in all 50 states and in over 40 countries around the globe.
Watchara Klakhakhai is an realistic artist from Thailand. In his works we can also come across beautiful Apsaras. English translations of the word "Apsara" include "nymph", "fairy", "celestial nymph", and "celestial maiden". An Apsara (also spelled as Apsarasa) is a female spirit of the clouds and waters in Hindu and Buddhist mythology.
Born and raised in the West Midlands, Richard Blunt always aspired to be creative. Following in his family's footsteps, art was always an all-encompassing force in the teenager's life. Hoping to turn this passion to vocation, Richard mistakenly took the advice of his careers advisor whose promise that 'you'll never make any money as an artist' simply delayed the inevitable.
Michael C. Hayes received a classical education as an oil painter at the prestigious Watts Atelier of the Arts. He is currently working as both a freelance illustrator in the fantasy genre and as a fine artist producing oil paintings within the same genre. He is best known for his work on Magic: The Gathering and Legends of Norrath as well as numerous book covers.
Karol Bak was born on 30 May 1961 in Koło in the Wielkopolska Region. He graduated from the Fine Arts High School of Poznań with a degree in Interior Exhibition Arrangement. In 1984, he was admitted to the Graphics Department of the State College of Art (currently the University of Arts in Poznań). He already knew what direction he wanted to take in his studies – painting, graphics and sculpture were perceived as a prestigious pursuit of "searching for pure art."
Chelin Sanjuan Piquero was a Spanish artist born on May 1, 1967, died in Valencia on August 26, 2012. In 1968, she emigrated with her parents to Chile where she will live for five years. Later they travel to Venezuela, the country in which she will reside until 1987. Her artistic vocation began at a very young age. At the age of three, she painted with insistence - houses, landscapes and dogs in whatever medium she had at hand, including all the walls of his house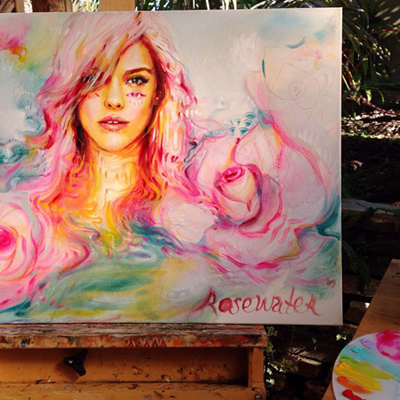 Charmaine Olivia is a self-taught fine artist from southern California. She was raised by spiritual parents who began teaching her in yoga and meditation since she was four. She began painting when she was 7 and started working as a professional artist at the age of 17. Spirituality, mysticism and mythology are strong influences in her work and in her life. Charmaine is aware that there is more to this physical world that we can see with our eyes, so she uses painting as a means to explore the other dimensions of mind and thought.
Master Mahmoud Farshchian was born in the city of Isfahan (Iran) on January 24, 1930. His father, a rug merchant, was an art aficionado who instilled a love for the arts in his son. Young Mahmoud showed an interest in arts quite early in life and studied under the tutelage of Haji Mirza-Agha Emami and Isa Bahadori for several years. After receiving his diploma from Isfahan's high school for the fine arts, Farshchian left for Europe, where he studied the works of the great Western masters of Painting.
Anna is best known for her classic, romantic figures that carry a sense of elegance and grace. Anna's work is both classical and modern, her romantic figurative works carry with them both tradition and originality. Her work captures the elegance and grace of the female form with both an air of simplicity and sophistication. While Anna's enchanting figures have an aura reminiscent of the Renaissance, and you can place them alongside old masters like Reubens and Rembrandt and draw similarities, the dynamic technique with which she paints, and the expressive freedom and sensuality of her work, creates something refreshingly modern, unique and beautiful.