I live in a picturesque town called Poltava in central Ukraine. I'm a qualified architect. After graduation, I practiced architecture for 10 years. I'm a member of the Ukrainian Architects Union and I made my first attempts in silk painting while working professionally as an architect. My work as an architect didn't bring me enough art freedom and creativity, which my soul required, so silk painting became my main work. I have been practicing silk painting for about 15 years. Olena Korolyuk
Greek painter Ira Tsantekidou, born in 1967 is an internationally recognized artist. " It is very rare to discover such a fine and educated artist such as Ira. Her paintings have the most unusual technique and style that I have ever come across. I am sure, that after one has viewed her paintings, the memory of them will stay with one forever.'' — J. Forster, London
"I have known Cristina Fornarelli for several years now, that is from the moment we met at a Roman exhibition in which she exhibited a chair painted in a fairly pop style. From there a sincere friendship was born that often went beyond the circuits of art and painting, while remaining linked to the world of culture and Roman life.''- Daniele Radini Tedeschi, art critic
Jeff Rowland, born in North Tyneside, England (1964 – 2018). Known for his rain-soaked oil paintings during a career than spanned over 30 years, Jeff combined a romantic 1950s feel with his signature rain motif.The anonymous kissing couple in his artworks represents a feeling of togetherness. Jeff Rowland's earliest inspiration to take up art came from the most unlikeliest of sources; notably his Grandmother's passion for her painting by number set of oils she used to frequent when he was a youngster.
" My name is Juliette Belmonte. I was born in Costa Rica, but I moved to the United States when I was a child. I have moved a lot throughout my life and will likely continue to do so as I find I gain a new perspective with each move. I studied graphic design in college, but I ended up never using my degree and instead pursued a career in painting. Later in life, I studied painting at the Art Institute of Chicago and The Art Students League of New York." Juliette Belmonte
Born on May 23, 1968 in Sofia (Bulgaria), talented artist Victoria Stoyanova has created a gallery of fantasy paintings reflecting the mystery of female beauty. According to her biography, before starting her artistic career in 1997 Victoria worked very successfully as a fashion designer. In her colorful paintings she sets light and darkness in harmony, and here human warmth and wisdom dominate. Somewhat kaleidoscopic, her technique is harmonious change of light and darkness, colors and plots, where the human body is always in the forefront. Victoria's paintings revere old traditions, a hint of long-standing wisdom and reproach to modern aesthetics, which appeared at the end of the XX century.
" Hi I'm Andrew and I love to paint – in fact, I'm obsessed with it! I have been making art ever since I can remember and I spend every day trying to better myself as an Artist. I have been a professional Artist for the last 17 years. It's all I do. It's been an amazing ride and has taken me around the world. I was born in the United States and moved to Australia when I was 10 years old. I stayed in Australia for 20+ years where I studied my craft. My career began in Perth, Western Australia. " Andrew Tischler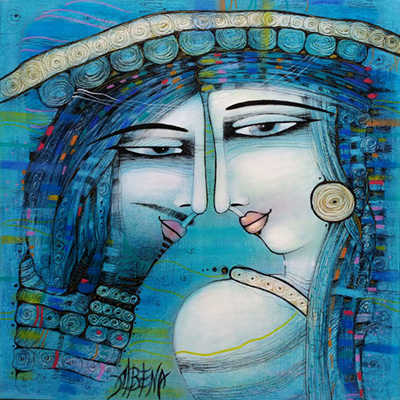 "I am a French artist born in the city of Sofia, in Bulgaria, I am also an architect, a poet, a graphic designer. I create mainly oil paintings on canvas or wood. When I was a little girl, I dreamed of being an artist painter or a writer and make people experience deep emotions while interacting with my work. As I was interested in many other subjects, I did long studies, published a book of poems and finally became an architect; I worked for 5 years in that sphere, mainly for bank offices. When I changed my country at the age of 29, I left all behind and started a new life in France, I became gradually a self–employed, self-taught artist." Albena Vatcheva
Nikolay Ninov is a Bulgarian sculptor, born in 1973. He graduated from SSHU for PI. Tryavna, and later VTU "St. st. Cyril and Methodius ", specialty" Sculpture "by prof. Konstantin Denev and prof. Velichko Minekov. In 2009 he became an associate professor, and to this day he teaches sculpture and painting at VFU "Chernorizets Hrabar".
Shawn Mackey was born on August 11, 1984 in Edmonton, Canada. Growing up in the long cold winters of Canada, he had ample time to draw and let his creativity flourish. Mackey's parents, who were both teachers, would bring home boxes of scrap photocopy paper for him to draw on.
István Sándorfi (In France Étienne Sandorfi, born 12 June 1948 in Budapest, Hungary, died 26 December 2007 in Paris, France) was a Hungarian hyperrealist painter. He received his formal art education at École nationale supérieure des Beaux-Arts and at École nationale supérieure des arts décoratifs in Paris. He mastered what art critics now term hyperrealism. But he did so with his very own blend of surreal elements.