Masaaki Hikida (疋田 正章) is a Japanese artist, Born in Kyoto 1978, Japan. He graduated from the Faculty of Science and Engineering at Ritsumeikan University and went on to become a painter. His works are mainly of cats and women, but the women are carefully drawn with glossy skin and details of the hands, and the cats have soft hair and even the eyes have a translucent beauty.
Robert Hagan is an artist from Australia. "I was born in Murwillumbah, NSW Australia and spent my youth between Brunswick Heads and Chillingham in and about the beautiful Tweed Valley. I attended Murwillumbah High School and excelled at nothing very much other than football and the final exams which got me a scholarship to University. 4 years later I graduated with an Arts degree in Economics and a Diploma in Education.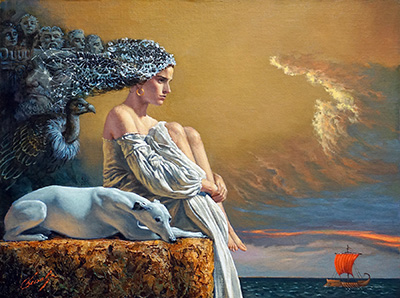 Michael Cheval was born in 1966 in Kotelnikovo, a small town in southern Russia. He grew up among paints and brushes, canvases and easels. His grandfather, a professional artist and sculptor, developed Michael's love for drawing in his early childhood. A three-year-old boy, he could already draw complex multi-figured compositions, illustrating his fantasies and impressions.
For Michael Van Zeyl, portraiture is much more than a one-sided translation of the artist's point of view taking form in a subject. It's an engaging visual dialogue that renders a soul in light, shadow and pigment, continuing the conversation for future generations to appreciate.
Montague Dawson (1895–1973) was a British painter who was renowned as a maritime artist. His most famous paintings depict sailing ships, usually clippers or warships of the 18th and 19th centuries.
" Sentimental views, creative twists, speaking visually, allowing the viewer's to create their own narrative seem to be constant as I approach the canvas. My methods in the creative process use a wide realm of materials and techniques. These materials include oil, acrylic, gesso, mixed media, pencil, encaustic, textiles, stoneware and more. The approach and final product demonstrates my commitment to excellent craftsmanship, overall harmony, tonal palette, fluid imagination, and strength in knowing materials. " Nancy Bossert
Joel Chavez is an artist from Quezon City, Manila, Philippines. Chavez's reimagining of neoclassical paintings, particularly those of William-Adolphe Bouguereau, started in 2017. An angelic couple on a swing, a partially naked mother of four, a disreputable doctor performing unwanted experiments. To him, the works of these master painters are an homage to the progress of humankind, representing a push for reason and rationality over religion and power.
Anatoly Piatkevich was born in 1969 in a small town in the heart of Belarus, once a Republic of the former Soviet Union. The countryside has a mixture of serene forests, rivers, meadows and ruins of old castles and other remnants of his predecessors. Anatoly recalls fondly that his childhood home was filled with paintings of Belarus landscapes as painted by his mother and grandmother. Perhaps as a result, Anatoly also remembers always having a passion for music, literature and art. As a child he was enrolled in music school and played the trombone every day.At age 18 he began a 3-year obligation with the army and was sent to Siberia.
Francesca Strino was born in 1979 in Naples, Italy. She was born into an artistic family. Francesca's powerful paintings reflect the influence of her father, Maestro Gianni Strino. She began studying art at the 'Artistic Lyceum' and then furthered her studies by attending the Accademia di Belle Arti di Napoli with specialization in sculpture and portraiture. Strino became a pupil of the well-known master G. Di Fiore whilst at the Academy.
Santiago Carbonell was born in 1960 in Quito, Ecuador with Spanish nationality. He emigrated to Mexico in 1986 where he married María Gabriela. He is the father of four Mexican children and currently resides in the city of Queretaro, Mexico.