Joseph A. Miller is an Associate Professor of Art at S.U.N.Y. Buffalo State, where he has taught drawing and painting since 1997. Miller's work is in numerous public and private collections, and has been shown internationally in Finland, China, Poland and the Czech Republic, as well as across the United States, from Berkeley, California to Cambridge, Massachusetts.
Allen Bentley's exploration of motion runs throughout his career. Even his still-lifes in college seemed to shift in place. His new series Momentum, is a study of speed and the thrill and freedom felt through driving. For two decades, Bentley has used the vehicle of bustling dancers and swimming couples made of quick, energetic touches to discuss the dynamic nature of our quest for connection in our lives. Pushing, pulling, flirting, chasing: these are the moments Bentley explores through a flurry of gestural marks.
Jose Alonso Loaiza is a classical, romantic and Renaissance artist. Jose Alonso was never part of a formal art program or training school. Instead he learned from his own personal studies of an art style which appealed to him more than any other, the Italian Renaissance. He cites Michaelangelo, Raphael, Donatello and Da Vinci as his greatest inspirations.
Once an advertising art director, Jessica has amassed a collection of vintage printed ephemera which she revives in her artwork. She paints predominantly in oils but her art is rooted in collage. Her collection of 1940's and 1950's wallpaper is the inspiration for her series of work "Wallflower". The series is an exploration into feminine identity: in particular, how appearances relate to the inner self.
Born in the city of Bucaramanga (Colombia), from his youth entered the drawing and painting always showing interest in the human figure in all its facets and attitudes. His works have been exhibited in different Colombian cities where they have received excellent reviews and wide acceptance. He currently works for several galleries and orders made in person.
Emil Mlynarcik is a contemporary Slovak painter. He was born in 1960 in the village of Vernár (Slovakia). His paintings with the theme of landscape and still lifes, show our everyday life, but also retreating the magical forest, rural wooden houses and old districts disappear.There is no expedition to dream, or exotic in imaginative fields, extravagant, and under all circumstances particularly shocking molding compounds and color combinations.
Tony Hinchliffe's figurative art is designed to portray intimacy and to create a powerful mood which is charged with emotion. Tony uses his art as realm of pure escapism, and at the same time he invites the viewer to experience it in the same way. Tony is a master of oil paint, and he sometimes uses an acrylic underpainting technique so that he is able to benefit from the way that the oils react to when applied over acrylic.
Wang Hongzheng ( 王宏峥 ) was born in Zhangjiakou (China), Hebei Province in 1971, and now lives in Beijing. He graduated from the Oil Painting Department of Tianjin Normal University, and then worked in the Oil Painting Creation Research Office of the China National Academy of Arts for further study.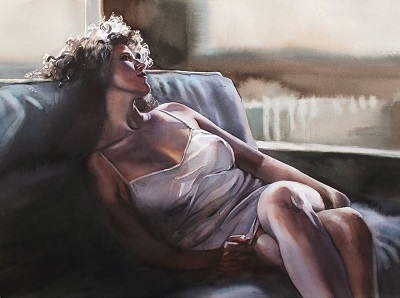 Serdnova Anastasija was born in Ukraine in 1994. Between 2009 and 2013, she attended the School of Culture in Melitopol, where she graduated in arts and crafts, and in 2016 she graduated from Zaporizhzhya National University.
Cesar Santos is known for his figurative works, which juxtaposed classical esthetics and contemporary philosophy drawn from his diverse life experiences. His work has been exhibited in the United States, Europe, Latin America and Asia; including the Museum of Art and Design in Miami, Villa Bardini Museum in Florence, the National Gallery in Costa Rica and the Bejing World Art Museum in China.