Giorgio Dante (b.1982) is an Italian figurative painter living and working in Rome, Italy. After graduating in 2006 at the Academy of Fine Arts in Rome, Dante distinguished himself as an artist of contemporary revival of classical painting. His work emphasizes, through the body and myth, symbols immutable over time, the emotions of human soul, such as atemporal values, therefore contemporary in every era.
Kay Boyce's passion for drawing began as a child in her home town of Sheffield (England), spending hours at a time developing her illustrative skills on the backs of rolls of wallpaper. Having studied illustration at Wrexham College, Kay started her career as a Freelance Illustrator producing editorial work for Women's Weekly, Bella, My Weekly, the Sunday Express and Woman's Own. The high standard of Kay's illustrative work carried her through to major book publishers such as Hodder and Staughton, Wadsworth Romantic's, Mills and Boon and Mandarin.
Andrzej Malinowski was born in Warsaw, Poland. Born into a modest family, he spent his childhood in a post-war climate tinted by dark grey and red flags. Feeling trapped on all sides he looked for a light, far ahead. This light at the end of the tunnel revealed itself as the "ideal of beauty" and he set upon on a frantic quest towards it. He read anything that fell into his hands. Deep in his heart he collected rare snatches of beautiful music heard on the radio. Lucky enough to have access to musical instruments thanks to his stringed-instrument making grandfather, he strummed wood and strings.
Lujan Gallardo is a contemporary artist from Argentina. She graduated as a music teacher with a specialization in piano. As for her development, she is permanently linked to the world of art, making painting her choice of life. She had the tutelage of Master Vito Campanella, who guided her in the improvement of her work.
Chie Yoshii's oil paintings explore timeless psychological themes with a contrasting mix of techniques and styles. On the one hand, the brushstrokes and the luminosity of her panels are reminiscent of traditional Flemish paintings, in which the details, the quality of shading, and the softness of each character's complexion are presented in a masterly manner.
Christiane Vleugels was born on March 3, 1963 in Schoten, Belgium. Ever since she was a young girl, she felt compelled to grab hold of every impression and translate them into a drawing. This is why her parents decided to have her enrol into the "Art Academie" in Schoten at the age of twelve. Here she was properly educated in the art of drawing and sculpting by Herman Cornelis, an inspiring artist.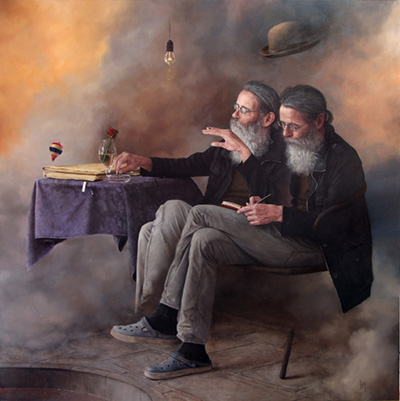 Hernán Javier Muñoz has been living from his art for about four years when he decided to leave everything for painting. Before he was a technician in computers and computer networks. Luckily, one day he changed his course and now he can enjoy this artistic career. He was born in Argentina (April 5, 1983) from a middle-class family in a neighborhood called 'Mataderos' that remains in Buenos Aires in the Federal Capital. It is located in the central-eastern region of the country, on the western bank of the Río de la Plata, in the middle of the Pampas plain, in South America.
Valerie Maugeri was born in Paris, 1967. For several years now, Valérie has been making creations on canvas following an important work of personal research on her technique, from which a multitude of details are visible from near and far. It is first of all the warmth of the colors used that attracts the eye, then the detail work reveals a rich and infinite world. Always bright and often enhanced by the presence of gold leaf, her creations give rhythm to compositions charged with emotions.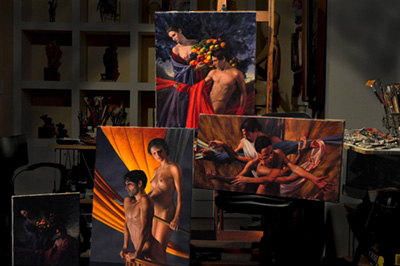 Argentinian artist, Miguel Avataneo, was born in 1962 in San Cristóbal, Argentina. In 1988, he graduated from La Escuela de Artes de la Universidad Nacional de Córdoba. Avataneo is one of the brightest talents in Argentina's art world. His paintings combine his love of the classicism of Raphael, Giorgione, Titian, and Corregio with the South American tradition of magical realism. His images are rooted in the real world of European classicism but are infused with a naturally fantastical element. Exquisitely drawn figures are placed in dreamlike environments.
Sergio Cerchi was born in Florence, where he still lives and works and where he received a diploma from the Porta Romana Art Institute and has attended courses at the Cherubini Conservatory. His education included, from its beginnings when he was very young, interconnected experiences in music and the visual arts. These became inseparable passions which he cultivated with tenacity and determination, and wich brought him into the workshops of diverse artists and led him to play in various musical groups.