Alpay Efe is a professional painter, born 1987 in Oberhausen, Germany, lives and works in Germany. With years of practice, Alpay has mastered oil painting and creates immensely beautiful and astonishing pieces of work. His large-scale portraits and more intimate smaller works carry a striking liveliness and ignite an enchanting spark in the viewer.
Ewa Hauton (born in Poland where she studies Fine Arts) is an artist living in Nantes, France. Her thematic focus turned on movement and expression of life after she met with choreographer Evelyne Jolivet, and Hauton's canvases are now defined by depictions of the human body – particularly the feminine form – in motion. Employing a muted colour palette and soft strokes, she composes paintings marked by delicacy, freedom and a touch of mystery.
Serge Marshennikov was born in 1971 in Ufa in the USSR. Serge painted from a very young age, and his mother encouraged his study of art, arranging private lessons and studies in art studios. After winning awards for his paintings as a child, Serge went on to graduate from Ufa Art College in 1995, and then graduated from the renowned Repin Academy of Fine Art in St. Petersberg, Russia.
Abraham Hunter said that he first began to realize that God had given him a talent at 12 years old. At 14, he began to really commit to his art. With no wildlife artists in his home area, and no family members with artistic gifts, Abraham had no choice but to teach himself.
"I graduated from the High School of Art in Rzeszow (Poland) and then I studied at the Faculty of Graphic Arts at the Academy of Fine Arts in Cracow (Poland). Diploma with distinction defended in the Studio Poster with prof. P. Kunce. After studying i spent a lot of time working in the advertising industry, where i created many interesting artistic projects, many movie posters, including the poster for Andrzej Wajda's "Katyn", the director who won the Oscar." – Daniel Porada
Anne- Christine Roda defines a highly original interpretation of the portrait: in her work the painting is entirely subjugated to the portrayal of man's fragility. Her paintings, in terms of the choice of pose for her models and the neutral treatment of their backgrounds are as rooted in tradition, as her subjects are sourced unequivocally from our contemporary era. Her choice of subject speaks directly to our everyday lives.
Yovka Mechkarova [Йовка Мечкарова] was born January 12, 1976 in the town of Kalofer, Bulgaria. She graduated in art education for Applied Arts in the town of Troyan in 1995. She currently resides in Veliko Ternovo (Bulgaria).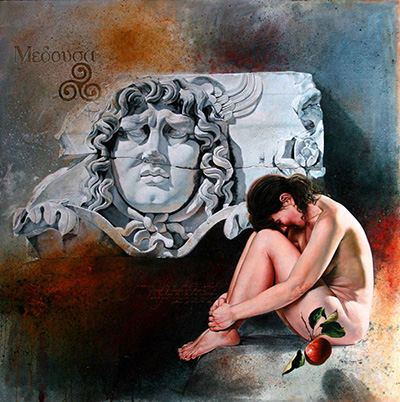 Hasan Saygın was born in 1958 in the Karamanlı district of Burdur (Turkey). He spent his childhood in primary and secondary school in Karamanlı. In those years, while he was working with his family in the beet, anise, onion and wheat fields during the summer holidays, he was always interested in painting.
Fukui Ouka ( 福井欧夏 ), is a Japanese realist artist, living and working in Tokyo ( Japan ). Fukui's work is based on the principle of the "real world" (the model is actually placed in front of the canvas to be painted).
Marco Grassi born in Reggio Emilia on May 6, 1987, is an Italian artist, lives and works in his native city. He graduated from the Academy of Fine Arts in Bologna. Marco chose to devote himself full time to painting, a passion that accompanies him since he was a child. Line quality and delicacy in the colors are fundamental aspects of his painting. Fascinated by the changes of body and personality, he tries to reinterpret the human forms through metamorphosis and other contamination.